What separates Townsend Roofing from
all other roofing contractors?
1. Quality, Quality, Quality!!! We truly believe in completing every job to the highest of standards, which is why we are proud to put the Townsend name on everything we do.
2. On site supervision! We don't just send a crew out and hope the project is running smoothly. There is an on-site supervisor, as well as a lead crew member, for every job to ensure you are satisfied through the whole process and everything is going as planned.
3. Over 90% of our work is from referrals! We take huge pride in the fact that our customers continue to spread our name because of how pleased they were with our work. Even though we may not be the lowest price, our previous customers will tell you it was worth every penny to know you will be getting the best roof possible.
4. As a state certified building and roofing contractor, we are qualified to complete a "Uniform Wind Mitigation Form" after we complete your roof which has saved our customers hundreds of dollars on their annual homeowner's insurance premiums. Some inspectors and contractors are charging up to $350 to complete this form but we provide it at no charge with every new roof.
5. We provide a 10 year workmanship/labor warranty for our residential shingle roof systems. We have such huge success and quality installations, we know your roof will be free from workmanship defects for years and years and have no problem standing behind it!
6. No upfront payments or deposits are required! Payment is due upon completion once the city has passed our final inspection and you are happy with the completed project! **Unless shingles are special order, not commonly stocked locally**
Townsend Roofing has the Equipter RB4000 Roof Buggy for those tougher projects to ensure the landscaping and property are protected with no mess!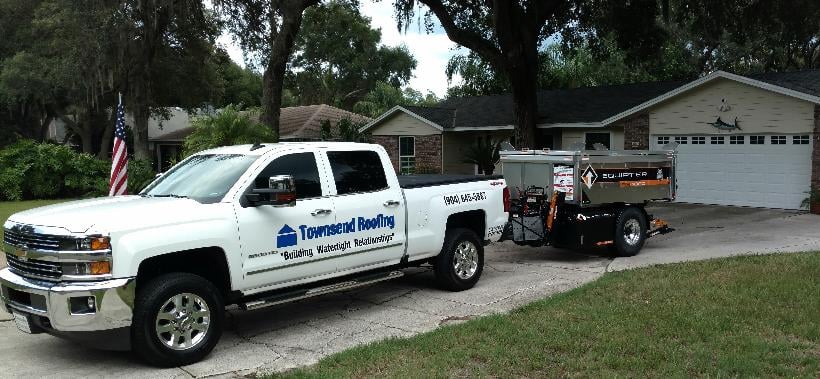 Below are some of our completed jobs:
Townsend Roofing and Construction Services, Inc
1740 Cocoanut Road, Unit #101
Jacksonville, FL 32224
(904)645-5887 office
CCC#1329269 & CBC1264390
Email: info@townsendroofing.com